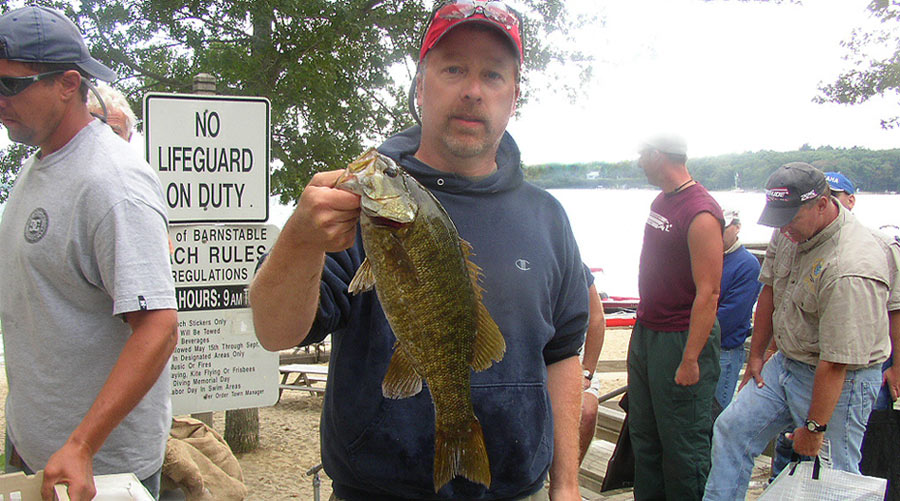 Fun, Fishing, Friendship
Avid was founded in 2004 with the intent of making us all better fishermen, fostering a love of the outdoors, and forging new friendships and sportsmanship via spirited competition.

After having been affiliated with BASS and FLW for many years, we recently reorganized as an independent club. We're all very dedicated to the sport and love competition, but realize that regional- and national-level events aren't what everyone strives for. The monetary and time commitments can be costly. We now offer a place for local anglers to compete against a smaller, more familiar field for decent payouts, pools, awards, and camaraderie without the requirement of also having to join one or more parent organizations.

We meet once a month (except November and December) on the fourth Thursday at 7 pm at the Taunton, MA, AFA Hall.

Avid consists of about 2/3 boaters and 1/3 non-boaters, a ratio we aim to maintain as membership grows, since it usually ensures all non-boaters have a ride on tournament day. Events are all blind draw format, meaning non-boaters pick boaters at random for each tournament. We strive for an even playing field and this ratio and format is the key.


What about the fishing?
We hold 5 tournaments yearly that pay out 1st through 3rd places and an event lunker. Payout is relative to membership size. Each angler also receives points toward our Angler of the Year award. Lunkers caught during these qualifying events are eligible for the annual Big Fish Pool payout at season's end.

Avid hosts an annual open tournament on Long Pond Harwich the Saturday before Easter, the Easter Bunny Open, as a fundraiser for the club. It's one of the first events of the year that members look forward to to get the juices flowing for the upcoming season. For more about the EBO see the EB Open page.

We've also added an annual non-qualifying no-cost 'Mystery' tournament. That is, an event held at a location the tournament director reveals to members the night before the event, for which no points are earned but prize money is awarded. It's a fun addition to close out our season.

Other events we've enjoyed have been on-site cookouts after events, informal pickup tournaments among members, and road trips to explore new waters. This season we are considering our first end-of-year banquet. Who knows what else we might come up with!

You're invited to check out the FAQ and explore the site. If you're considering joining us or if any questions haven't been answered on these pages, please get in touch with one of our officers. We're always happy to chat about fishing!


Get In Touch
President: Email: John Shpack | Phone: 774-254-0035
Tournament Director: Email: John Boudreau | Phone: 781-249-0553
Webmaster Email: Dave Waugh | Phone: 508-212-2061

Join us at one of our monthly meetings, held the fourth Thursday of each month at 7 pm.


Directions to Taunton AFA Hall
531 Tremont St., Taunton, MA
From Mass. points north or west
495S to rt. 140S (for about 5.5 miles)
Right onto Worcester St. (for approx .25 mi.)
Right onto Tremont St. (for approx 1.5 mi.)
AFA Hall is on the right.

From the Cape
495N to rt. 44W (for approx 2.5 mi.)
Right onto rt. 140N (for approx 1.5 mi.)
Left onto Tremont St. (for approx 1.5 mi.)
AFA Hall is on the right.

From RI points south or west
95 to 195E (for approx. 1.5 mi.)
Rt. 44E (for approx. 5.5 mi.)
Left onto rt. 118N (approx. 2 mi.)
Right onto Tremont St. (approx. 2 mi.)
AFA Hall is on the left

Get driving map/directions from Mapquest
FAQs
How much are club dues?
Annual membership is $400, collected at the January meeting. Members must be paid in full by March for full participation in the upcoming season.

$125 covers the member's annual dues. $250 covers all entry fees into the club's five qualifying tournaments and a non-qualifying event held at season's end. It also includes $25 toward an annual Big Fish pool, awarded to the angler who weighs the heaviest fish during the course of a season's five qualifying events.

Membership dues are NOT prorated/discounted for those who join after the January dues period, but tournament entry fees are. That is, new members pay dues plus entry for only the events that have not yet taken place.

Members who miss fewer than 3 meetings in a year are rebated $25 off the next year's dues, effectively making their dues $100.


Where do you fish?
Mostly in central and southeastern Massachusetts, but we usually fish one 2-day event at an out-of-state location, most often Lake Winnipesaukee or Lake Champlain.


What kind of boat do I need?
To join as a boater the limitations are that it must be at least 15' in length, and have a working kill switch and livewell. Because we fish some larger bodies of water where it can get rough, anglers with smaller boats may opt to fish as co-anglers if their boats can't safely handle the conditions.


Anything else?
Member boaters must carry boating insurance with minimum $300K liability, since you will likely be carrying other people in your boat, and will be manuevering around others in close quarters. It is required for the EBO and most trails and opens.


What about gear?
That's entirely your decision and personal preference. A few staples besides rods and tackle you'll need for tournament fishing are:

- A tournament weigh bag
- High quality rain gear
- A life jacket (PFD)