Mike Caudle has a way with the ladies at Webster
Mike coaxed two big girls into his boat to round out a bag that tipped the scales at Webster to the tune of 14.42 pounds. He captured big fish on the strength of his biggest, a 5.23 pound largemouth. His next largest fish was not weighed but was eyeballed at 4-plus. The lunker fish narrowly beat out his coangler, Nick, who boated a nearly identical largie of 5.22 pounds, coming in just .01 pound shy of making it a tie.

Second place went to John Shpack whose largemouth limit tallied 12.47 pounds. Jeff Lin took third place out of the back of the boat on a limit of largemouth that weighed in at 9.87 pounds.

The lake fished slow for the most part, thanks in part to a drastic weather change coming on the heels of a month-long drought and exceptionally hot, humid weather with temps in the upper 80s and 90s, and a lake-wide weed kill that ravaged cover in the usual reliable spots. The day started breezy and cool but sunny at the 6 o-clock takeoff, but clouded up soon after, cooling further and bringing damp, drizzly air and a stronger wind out of the east. Reports show that the high temperature for the day was only about 70 and the wind blew steadily at 15mph with gusts to 23mph (on land; likely stronger on the open water). Water temperatures were in the low-mid 80s.

Those who managed to find some of the few surviving weeds or other good structure managed to find the fish, and it seems the majority were taken on drop shot, ned rig, Carolina rig, or other slow moving techniques. A few fish did come on reaction type baits, but they were in the minority.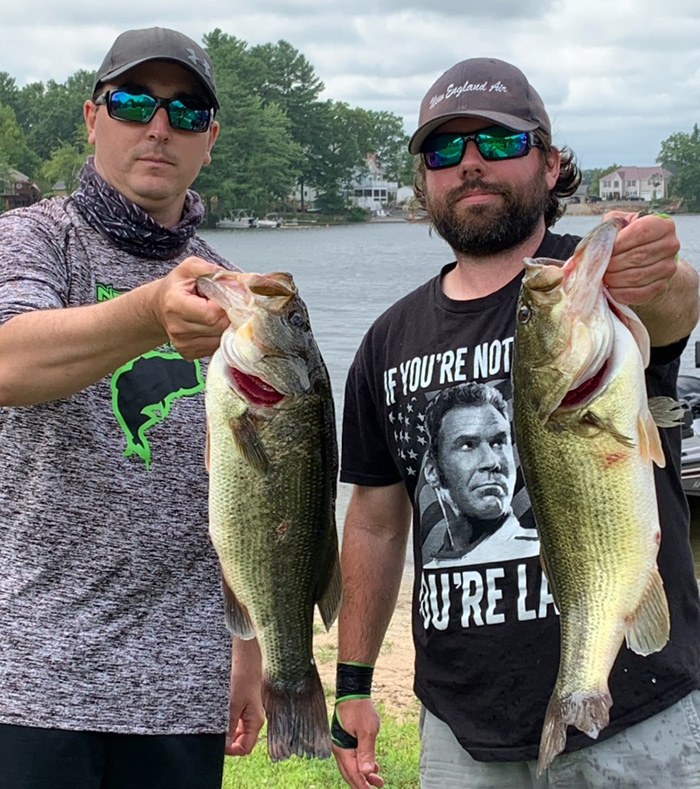 Scoreboard
Lunker award: 5.23 lb., Mike Caudle
Number of fish caught: 32
Gross weight: 65.39 lbs.
Average weight per fish: 2.04 lbs.
Survival rate: 100.00%
Compare Avid events at other lakes